Creamy Banana Chocolate Smoothie
At the moment I often enjoy smoothies, whether liquid to drink or as a bowl to spoon. Smoothies are really so variable and since I have a rather sweet tooth anyway, it is a super meal.
Today we have the chocolaty, liquid version: Perfect for a light breakfast or even as a "bigger" snack for in between. Plus, it's full of healthy nutrients and vegan!
If you prefer bowls, simply use a little less of the coconut milk or vegetable drink.
What's Inside?
The star of this recipe is definitely the cocoa powder. It is rich in calcium and phosphorus, strengthens the heart and protects the body cells due to its high content of antioxidants.
The avocado, the frozen banana as well as the coconut milk make the smoothie especially creamy.
The peanut butter adds more healthy fats and the honey rounds out the whole smoothie with its sweet note.
Feel free to try it out. It really tastes extremely delicious!
Can I Substitute Ingredients?
The ingredients can of course also be varied. For example, you can omit the peanut butter or replace it with another nut puree.
Furthermore, the banana does not necessarily have to be frozen either.
The creamy banana chocolate smoothie is
I always like to drink my smoothies from a straw. I have the feeling that everything tastes even more intense, but that's probably also a mental thing. 😉
I'm also on Instagram
Posting healthy recipes regularly. Check it out!
Nevertheless, I like to use them from time to time, but I've been making sure for a long time that they are as environmentally friendly as possible. Because plastic straws really don't have to be. There are super alternatives now!
A great alternative are the straws from Jungle Straws. They are reusable, come in cute storage bags and are even dishwasher-safe.
Feel free to check out Jungle Culture's site!
How Do I Prepare the Banana Chocolate Smoothie?
The preparation is as simple as it can be: Just put all the ingredients in a blender and blend until you get a creamy mixture.
Feel Like Trying Some More Chocolate Recipes?
I have a few more recipes like this for the sweet chocolate craving
If you liked the recipe, then leave me a comment. I am happy about any feedback!
You don't want to miss a single recipe? Then follow me on Instagram, there I regularly post new recipes and videos.
If you like this recipe, I would be happy if you share it on Pinterest!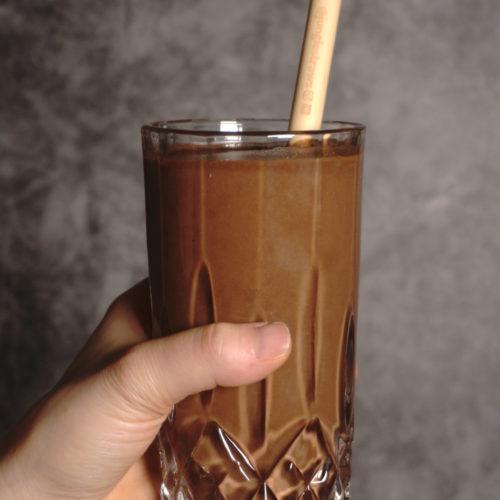 Banana Chocolate Smoothie
Creamy, chocolaty and prepared in 5 minutes!
Print Recipe
Recipe Equipment
Ingredients
1/2

avocado

1

banana

frozen

1

tbsp.

cocoa powder

5.1

fl. oz.

coconut milk

150

ml

2.7

fl. oz.

vegetable drink

80

ml

2

tsp.

peanut butter

2

tsp.

honey
Instructions
Blend all ingredients in a blender on high speed until everything is creamy.
Nutrition Facts
The links to products are affiliate links. If you click on such a link and make a purchase through this link, I get a commission from your purchase. This does not change the price for you.