This chocolate smoothie bowl is highly versatile. It can be enjoyed either as breakfast or dessert, but also simply when cravings overtake you and you don't want to reach for chocolate right away.
Because of the banana, the riper the better by the way, and the dates, this bowl becomes a healthy snack. You should freeze the banana in advance for at least an hour, even better overnight, so that the consistency becomes even creamier. This makes it the perfect meal for summer, when the temperature exceeds 88°F (30°C)!
I always have frozen bananas in the freezer, because they are versatile and almost essential, especially for smoothies. The banana should have been cut into pieces beforehand so that you can process it immediately.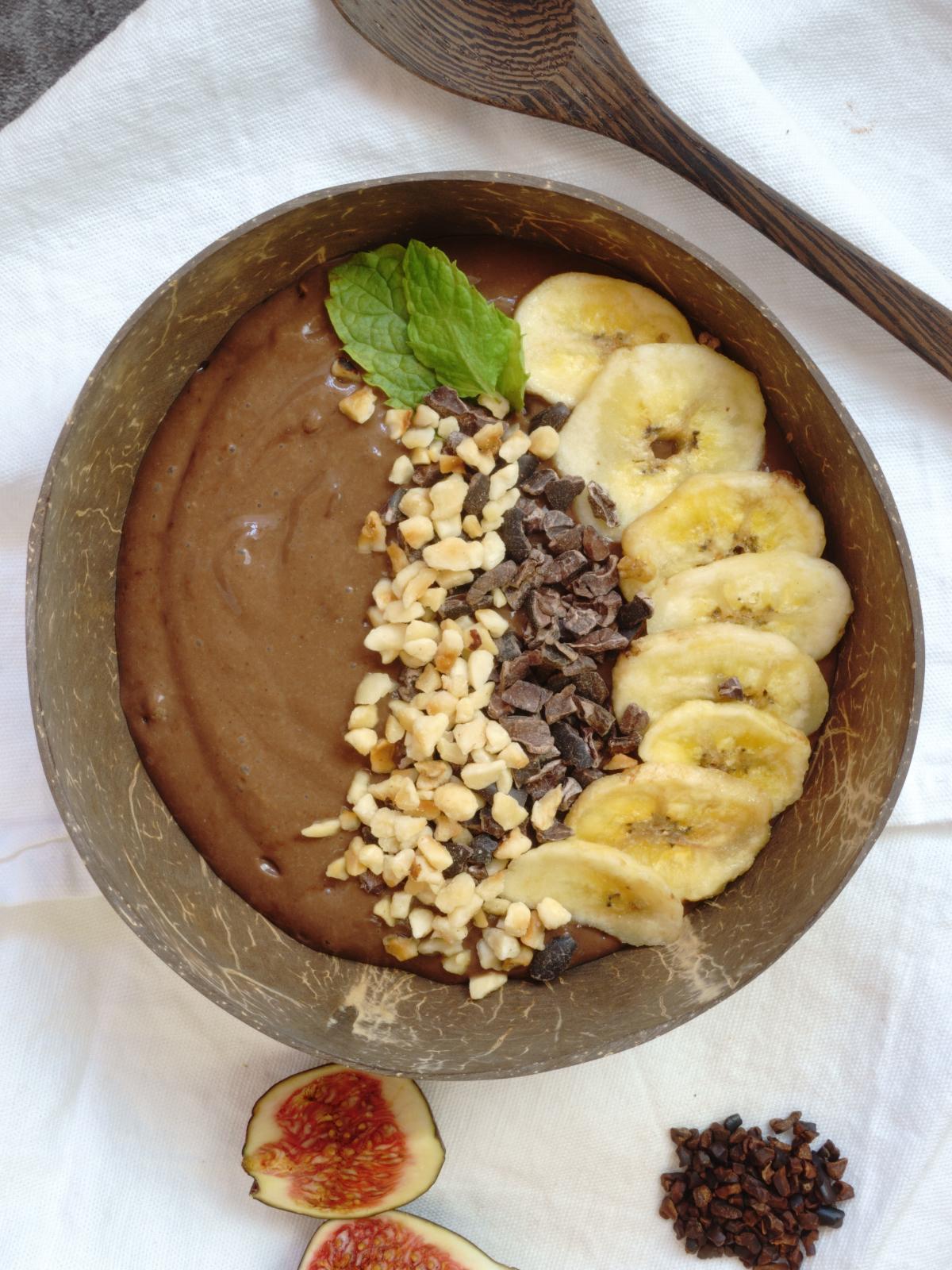 I store them in a freezer-proof container and have them immediately ready in case I get hungry. A frozen banana is not a must, it also goes unfrozen!
The half avocado mixed with the (plant-based) milk makes the consistency nice and creamy and the heavily de-oiled baking cocoa then gives it the cocoa note.
Did You Already Know? Raw Baking Cocoa Is an Alternative To Conventional Cocoa
Raw baking cacao, unlike conventional cocoa powder, tastes much more bitter, but it contains many antioxidants, protects against cardiovascular disease, provides strong bones, can reduce blood sugar levels and brings many, many other benefits.
That's why the raw baking cacao as well as the dark chocolate, the higher the cacao content the better, is at the top of my list!
I'm also on Instagram
Posting healthy recipes regularly. Check it out!
The Preparation of the Chocolate Smoothie Bowl
But now to the preparation, once again as simple as it gets: Cut the banana into pieces if necessary, get the avocado out of its shell. Put all ingredients in a blender and blend on high speed for about 30 seconds. Et voilá!
Finally, pour the mixture into a bowl and add toppings as desired. I have chosen banana chips, cocoa nibs and hazelnut kernels, because I feel that these fit great to the theme of chocolate, but your creativity is set free there. A bit of fruit, for example, would also be a good addition.
Enjoy eating!
If you like this recipe, I would be happy if you share it on Pinterest!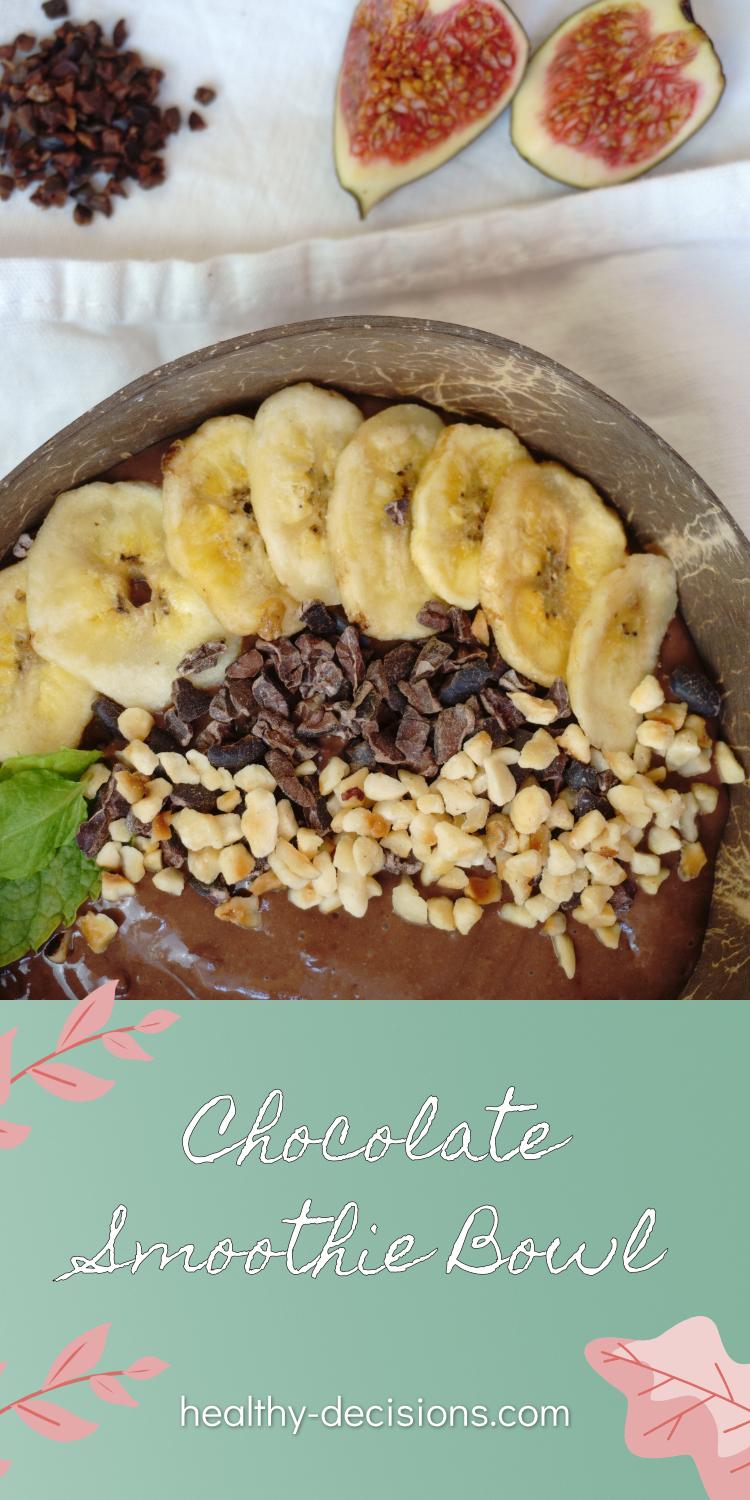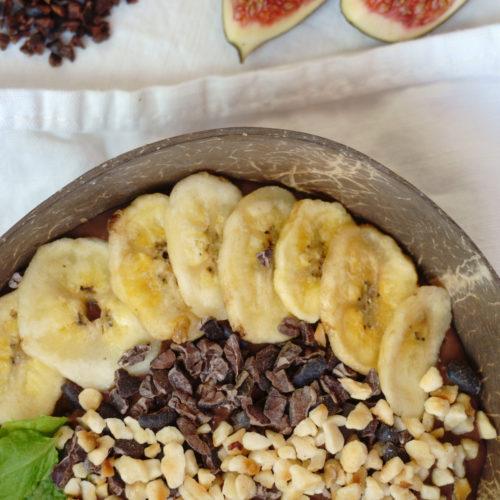 Chocolate Smoothie Bowl
If you have a craving for chocolate, then you should definitely try this recipe!
Print Recipe
Recipe Equipment
Ingredients
1

banana

preferably frozen

2

dates

2

tbsp.

baking cocoa

½

avocado

1/4

cup

soy yoghurt

60

g

3.5

fl.oz.

plant based milk

100

ml
Toppings
banana chips

cocoa nibs

hazelnuts
Instructions
Cut the banana into pieces, if an unfrozen one is used

Get the avocado out of its skin

Put all ingredients in a blender

Blend for approx. 30 seconds on high level

Pour the mixture into a bowl

Top at will
Nutrition Facts
The links to products are affiliate links. If you click on such a link and make a purchase through this link, I get a commission from your purchase. This does not change the price for you.