Vegan Soy Yoghurt Spelt Bread
Isn't a homemade bread, which just came out of the oven, the best bread you can eat? I am a total bread lover, but sometimes too impatient for the bread dough to rise. That's why I love this recipe so much and have made it this way countless times.
The preparation time is super short and you have almost no work to bake the bread. A perfect recipe if it has to go fast.
Plus, you know best what's in it. While the packaging in the supermarket often says "spelt" or "wholewheat" and you have to look at the list of ingredients to see that it also contains a lot of wheat flour, with homemade bread you can of course determine the ingredients and their quantities yourself.
I'm also on Instagram
Posting healthy recipes regularly. Check it out!
Just looking at the pictures makes me want to smear a slice of bread again! Such bread time is indeed something great!
Did You Know? Spelt Has Many Health Benefits
Spelt has a high dietary fiber content and therefore fills you up for a longer time than wheat. It also contains more vitamins and minerals than the commonly used wheat. The contained silicic acid, also called silicon, has a positive effect on skin, hair and nails and can even promote concentration.
How To Prepare Vegan Soy Yoghurt Spelt Bread
Preheat the oven to 375 °F (190 °C).
First, mix all the dry ingredients in a bowl. Then add the liquid ones and knead into a dough. Knead the dough into a round ball and put it on the baking tray! Now you just have to put the bread in the oven and wait about 45 minutes. That' s how fast you can bake a delicious and healthy bread!
If you like, before you put the bread in the oven, you can also sprinkle a few seeds over it, like pumpkin seeds or sunflower seeds.
After 45 minutes baking time you have a fresh, crispy bread, which is very light from the inside. I would say now it' s bread time!
If you like this recipe, I would be happy if you share it on Pinterest!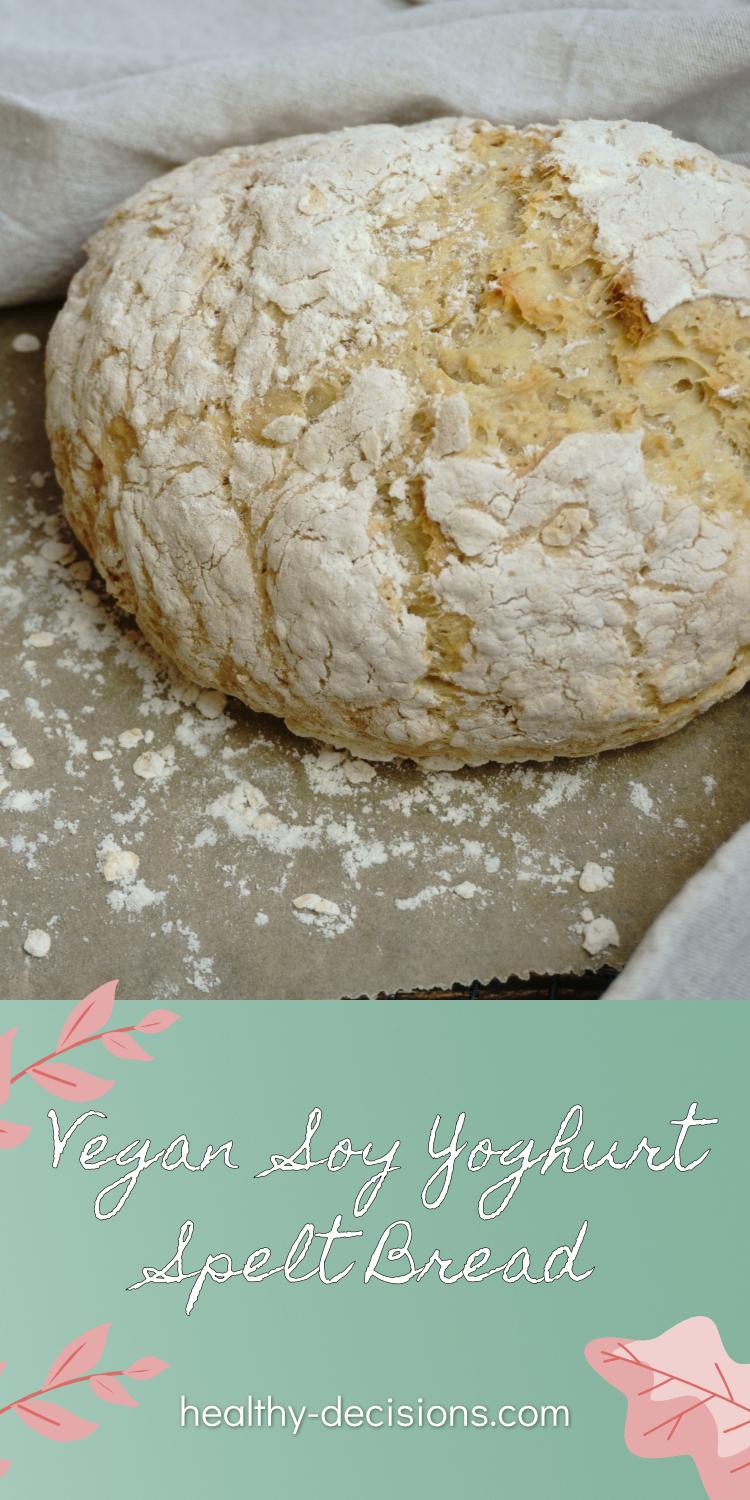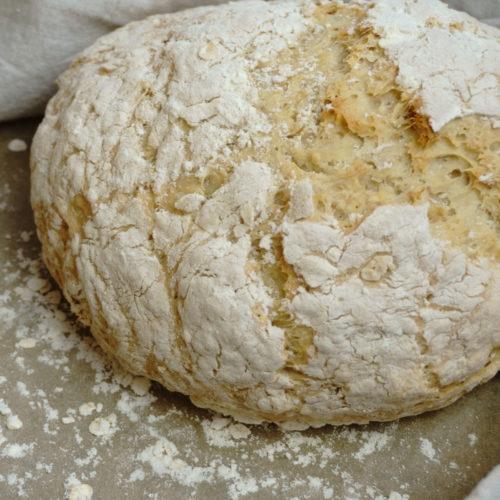 Vegan Soy Yoghurt Spelt Bread
A fast made healthy bread, which is also vegan. This bread does not need any yeast, baking form or other things. Just super simple!
Print Recipe
Recipe Equipment
Ingredients
2 2/3

cups

spelt flour

350

g

1/2

cup

oats

50

g

1

tsp.

apple vinegar

1 1/4

cup

soy yoghurt

300

g

1

pkt.

baking powder

pinch

of salt
Instructions
Preheat the oven to 375 °F (190 °C)

First put all dry ingredients in a bowl

Then add the liquids

Knead everything well to a fluffy dough

Form the mixture into a large, round dough and place on a baking tray lined with baking paper

The bread must now be put in the oven for 45 minutes

When it is golden brown, you can take it out of the oven and let it cool down
Nutrition Facts
The links to products are affiliate links. If you click on such a link and make a purchase through this link, I get a commission from your purchase. This does not change the price for you.