Vegan Coconut Cashew Porridge
Porridge is a real classic among breakfasts, at least in my eyes. It is not only quickly prepared, but also healthy and filling. You can prepare it in so many different ways that I can't imagine breakfast without it, because it simply never gets boring.
Did You Already Know? Porrdige Can Help You To Lose Weight!
Oats contain a lot of fiber, which not only stimulates digestion but also prevents an increase in cholesterol and blood sugar levels. Due to the many dietary fibers, they keep us full for a long time and slow down the ravenous appetite. Therefore, they are also very suitable for losing weight!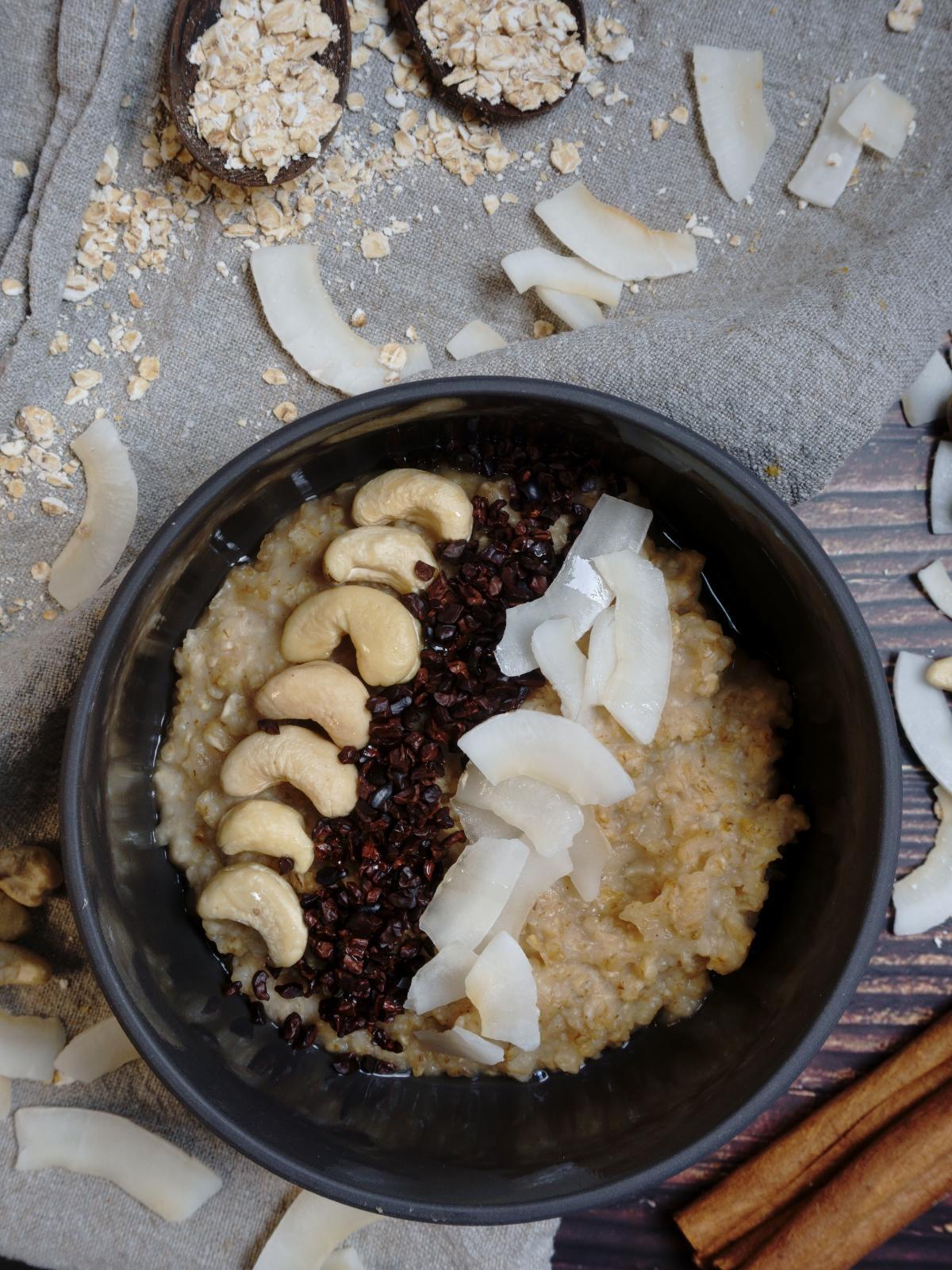 How do I Prepare the Porridge Best?
There are many different ways to prepare porridge:
My favorite variant at the moment is actually a preparation with mineral water. If someone had told me this half a year ago, I probably wouldn't have believed him or her. Too dry, too boring! But opinions change, as you know, and I tried the water version again some time ago and look: it tastes great!
Step One: Boil Porrdige With Water or Milk/Milk Alternative
Heat the desired amount of oats (in my case it varies between 1/2 – 1cup (50-80 grams) depending on the feeling of hunger) together with mineral water and a pinch of salt (approx. ¼ tsp) (you can also leave out the salt, but I think that it makes the taste even more intense) and a pinch of cinnamon in a pot.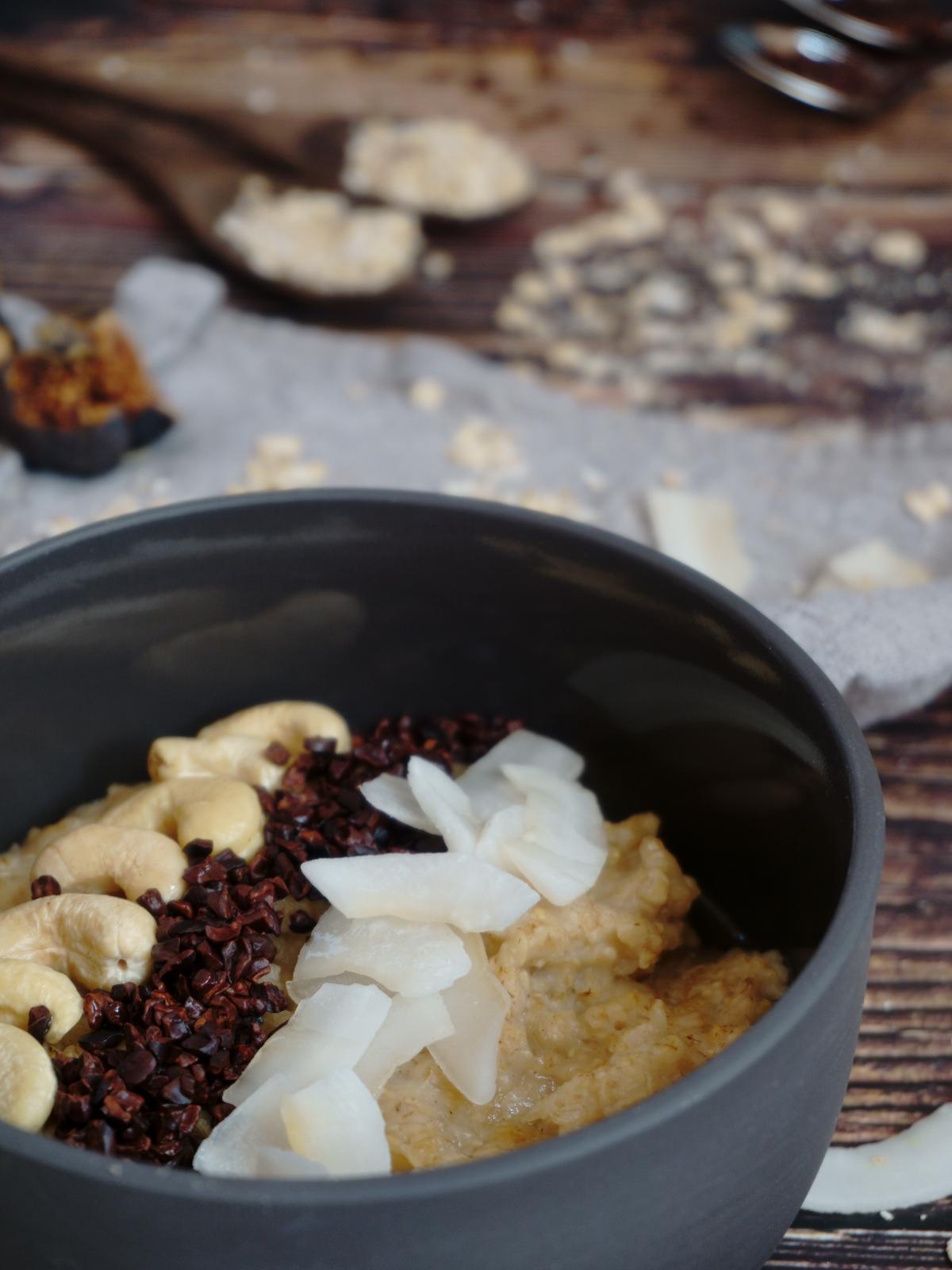 Step Two: Let it Simmer and Stir Occasionally
Let it simmer on medium heat. Add a dash of water if necessary. Stir occasionally. The oats absorb the water quickly and become a mush.
Step Three: Enhance With Toppings
Put the porridge in a bowl and decorate it with desired toppings. My favorite toppings are all kinds of nuts, like cashews or walnuts as well as fruit. Add some sweetness, for example agave syrup, and serve breakfast. Done!
Vegan Coconut Cashew Porridge
A true filling food and one of my favorites among breakfasts!
Print Recipe
Ingredients
1

cup

oats

70 g

approx. 6.76

fl. oz.

mineral water

200 ml

¼

tsp.

salt

pinch

of cinnamon
Toppings
1

tbsp.

Cashews

12 g

1

tbsp.

cocoa nibs

4 g

1 tbsp. + 1tsp.

coconut chips

5 g

1

tsp.

agave syrup

7 g
Instructions
Put the oats in a pot with a pinch of salt and cinnamon

Add mineral water or (plant) milk and heat it up.

Let simmer on medium heat. Stir occasionally.

Add a dash of water if necessary.

When the mixture has turned into a porridge, turn off the heat and put the porridge in a bowl.

Decorate with desired toppings. Bon appetite!
Nutrition Facts
If you like this recipe, I would be happy if you share it on Pinterest!