Turmeric Latte or Golden Milk
Turmeric latte or golden milk seems to be on everyone's lips at the moment. That's why I had to test the recipe, because I wanted to know what's up with this trend. One thing I can mention in advance: very tasty and of course very healthy!
Turmeric Latte as an Alternative To Coffee
Turmeric latte seems to be unusual at first and I have to admit that it takes some time getting used to it because of its special taste, but it is still quite tasty and a good alternative to coffee for those who don't like to drink coffee or maybe want to reduce their coffee consume a bit. The turmeric powder has the carrying taste power in the golden milk. Due to plant based milk and the sweetener, it appears sweetish at first, but is then quickly overtaken by the somewhat tart turmeric aroma.
Did You Know? Turmeric Has Many Positive Effects on Health
The main active ingredient in turmeric is curcumin, which is not only responsible for the yellowish color of the spice, but also has health-promoting effects. Curcumin has anti-inflammatory and anti-cancer properties. It is antioxidant, strengthens the heart and is also said to help with digestive problems. It is important to know that in combination with black pepper and oil, curcumin can be better absorbed, because on its own it has only a weak bioavailability. Ginger and cumin are also said to improve absorption.
The Preparation
Step One: Heat 4 fl. oz. (120 ml water) in a pot. Then add the turmeric powder (1.5 tbsp) and let it dissolve in the water while stirring continuously. Allow to simmer until a paste is formed.
Step Two: Either heat the selected milk (plant based or cow's milk) and froth it with a handheld milk frother or put it directly into an electric milk frother, if available.
Step Three: Pour the paste, the chosen sweetener (I chose agave syrup), a pinch of pepper, ½ tsp. oil as well as ginger powder and cumin powder, if you have it at home (I did not use it in the recipe) into a glass or cup.
Step four: Add the frothed milk to the glass or cup. Add a pinch of cinnamon on top. Done!
Enjoy drinking your tumeric latte. Tell me if you liked it in the comments!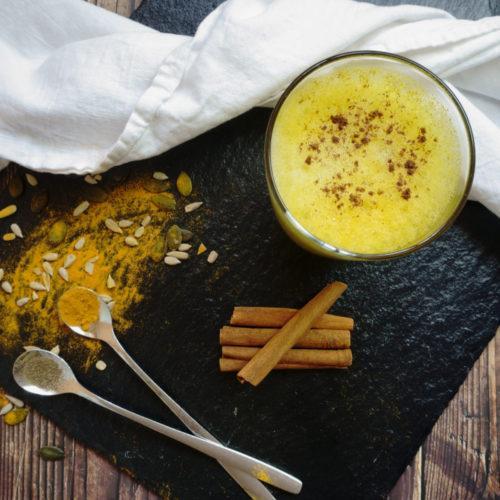 Turmeric Latte or Golden Milk
Golden milk is a popular drink, which is even said to have positive, health-promoting effects. In any case a reason to try it!
Ingredients
1.5

tbsp.

turmeric powder

1

tbsp.

sweetener

maple syrup, agave syrup etc.

pinch

of cinnamon

pinch

of pepper

4

fl. oz.

water

120 ml

8.45

fl. oz.

plant-based milk

250 ml

½

tsp.

oil

coconut oil or canola oil
Instructions
Heat water in a pot

Add curcuma powder and simmer in the pot while stirring constantly until a paste is formed

Froth or heat milk

Pour curcuma paste, sweetener, pepper, oil (and possibly ginger and cumin powder) into a glass or cup

Add the frothed milk

A pinch of cinnamon on top

Done!
If you like this recipe, I would be happy if you share it on Pinterest!