Quinoa Salad With Baked Sweet Potatoes and Zucchini
In search of a delicious dinner? Then try this quinoa salad! Quinoa is very diverse. Not only does it go very well with salad, but it is also very suitable as a sweet breakfast or for baking. In combination with a salad it gives free rein to creativity.
I actually only discovered quinoa a few years ago. At that time I thought it was still something very "exotic". Nowadays, I have quinoa on a regular basis, because it is not only versatile, but also extremely healthy.
Did You Already Know?
Quinoa is a pseudo grain. These are grain fruits from plant species that do not belong to the sweet grass family. Besides quinoa, they also include amaranth and buckwheat, for example. The preparation of the pseudo grain is very similar to that of the classic grains, but they are not related to each other.
In contrast to grain, the pseudo grain does not contain gluten. Therefore, they are a good alternative for people who have an intolerance to foods containing gluten.
Quinoa Is Considered a Real Superfood!
Quinoa contains high-quality plant protein. It has more minerals than the classic grains, for example, it contains plenty of iron (8 mg per 100 g), magnesium (277 mg per 100 g) and zinc (2.3 mg per 100 g). In addition, the small grains contain a lot of fiber, which is important for a healthy gut flora. Dietary fibers can also lower cholesterol and blood sugar levels and thus protect against a ravenous appetite attack.
Quinoa Can Be Precooked Well.
I often precook several portions quinoa on one day, because it can be stored well and thus you can save a little time. It stays fresh for up to seven days in the refrigerator, packed airtight. However, cooked quinoa should not be stored at room temperature for more than two hours, otherwise invisible mold spores can develop!
But Now To the Preparation of My Quinoa Salad
Step One: Preheat Oven
Preheat the oven to 400 °F (200 °C).
Step Two: Clean and Cut Vegetables
Clean the zucchini and sweet potato and cut into cubes. I like to keep the peel on, but you can also take it off.
Step Three: Put Everything in the Oven
Put the zucchini and sweet potato pieces on a baking tray lined with baking paper, season well with salt, pepper and chili (you can add or replace other spices here if you like) and bake in the oven for about 20 minutes.
Step Four: Cook the Quinoa
Now cook the quinoa according to the package instructions.
Step Five: Process the Walnuts
Coarsely chop the walnuts and roast them in a pan without oil until golden brown.
Step Six: Prepare the Dressing
For the dressing, wash spring onions and cut into rings. Wash the basil, dry briefly and chop coarsely. Puree the spring onion, basil, 4 tbsp. water, 2 tbsp. apple vinegar as well as 2 tsp. agave syrup and 2 tsp. ponzu in a mixer or with a hand blender. Ponzu is, by the way, a seasoning sauce that is often used in Japanese cuisine.
Step Seven: Mix Everything
Now mix the finished quinoa with the baked vegetables, roasted walnuts and dressing. Bon appetite!
Have fun trying and enjoy!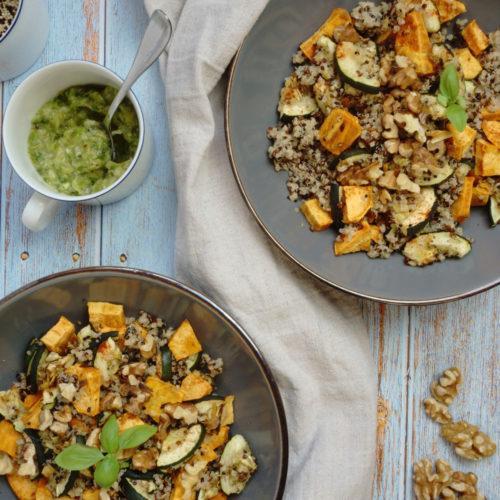 Quinoa Salad With Baked Sweet Potatoes and Zucchini
A delicious and very healthy lunch or dinner. Try it out!
Ingredients
260

g

zucchini

200

g

sweet potatoes

240

g

quinoa

cooked

20

g

walnuts

2

handful

basil

4

scallions

2

tbsp.

ponzu sauce

2

tsp.

agave syrup

4

tbsp.

water

2

tbsp.

apple vinegar
Instructions
Preheat the oven on 400 °F (200 °C)

Wash and dice sweet potato and zucchini

Put the vegetables on a baking tray covered with baking paper and season with salt, pepper and chili

Bake in the oven for 20 minutes

Cook quinoa according to package instructions

Coarsely chop the walnuts and roast them in a pan until golden brown

For the dressing, cut spring onions into rings, wash basil, dry briefly and chop coarsely

Puree the spring onion, basil, 4 tablespoons water, 2 tablespoons cider vinegar, 2 tablespoons agave syrup and 2 tablespoons ponzu in a blender or blend it with a hand blender

Mix the quinoa and baked vegetables with the walnuts and dressing

Done!
If you like this recipe, I would be happy if you share it on Pinterest!