"If you like pina coladas, and getting caught in the rain…." Every time I make myself the Pina Colada smoothie, I just have to sing this song. Who knows it?
The Pina Colada Smoothie is fruity and exotic, a perfect sweet snack! And also super delicious!! Super on hot summer days, but even if I wish for summer, I like to drink it.
Not only is the smoothie very fruity and delicious, it also requires only 4 ingredients. You could also replace the banana. I like to use it for the sweetness. But you could also use dates or sweeteners, like agave syrup.
The soy yoghurt can also be replaced or completely omitted. Of course you can also use classic yoghurt made of milk products or almond yoghurt etc.
I'm also on Instagram
Posting healthy recipes regularly. Check it out!
In my opinion, the yogurt gives the creamy consistency of the smoothies. Alternatively, you could also use creamy coconut milk. The most essential products here are pineapple and coconut milk/coconut drink.
Did You Know…?
…that pineapple has a lot to offer! It contains a lot of vitamin C and is generally full of important nutrients. These have anti-inflammatory and immune-boosting properties.
So the pina colada smoothie not only makes you sing the song, but also gives you energy and good nutrients!
Give it a try and let me know how the smoothie tasted to you!
If you like this recipe, I would be happy if you share it on Pinterest!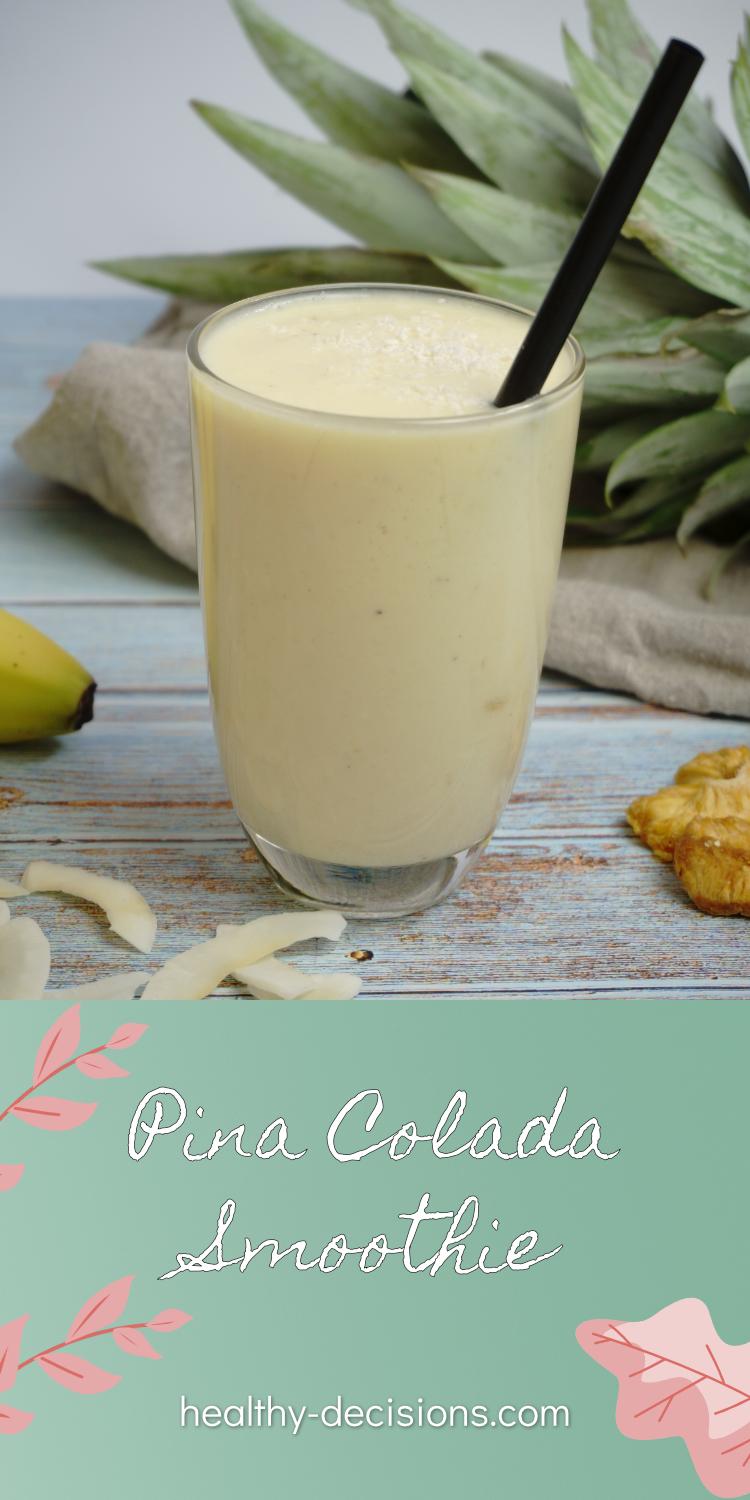 Pina Colada Smoothie
Refreshing, fruity and tropical. A sweet drink for in between.
Print Recipe
Recipe Equipment
Ingredients
3/4

cup

pineapple

frozen (

150

g)

3/8

cup

banana

75

g

3.5

fl. oz.

coconut drink

100

ml

2/5

cup

soy yoghurt

100

g
Instructions
Put all ingredients in the blender and blend until creamy.
Nutrition Facts
The links to products are affiliate links. If you click on such a link and make a purchase through this link, I get a commission from your purchase. This does not change the price for you.