This recipe is a must try! I love super simple recipes that also taste like a candy. It actually resulted from a failed attempt. Initially, it was supposed to be healthy energy bars on date basis.
Since they were much too sticky and did not stay in shape they did not turn out to be anything. If anyone has tips, feel free to post them in the comments.
I have changed my mind without further ado and came to the idea that you can also easily make a great cookie dough out of it. Because the mass itself tastes heavenly!
It's also a great alternative to traditional sweets, which are full of industrial sugar and unhealthy additives. Perfect for when you get hit with cravings and just need something to satisfy them.
However, you should keep one thing in mind: The Dough is super healthy in contrast to any candy, but it has a high caloric content due to the many nuts and dates.
Did You Know? Cashew Nuts Are a Real Superfood!
Cashews contain many calories, but also
It is even said that they make you happy due to the amino acid L-tryptophan they contain. Furthermore, it is supposed to help with weight loss, since the small kernels provide a long feeling of satiety and do not raise the blood sugar level as much as, for example, retail sugar. Therefore, cashews or nuts in general should definitely be included in your diet!
I'm also on Instagram
Posting healthy recipes regularly. Check it out!
The Preparation
Step One: Processing Dates
The preparation of the dough is quite easy: First of all, make sure you use soft dates, because they are particularly creamy and are therefore easier to make into a paste. First put the soft dates in a blender and blend them to a creamy paste. You might have to add some water if it gets too sticky.
Step Two: Add Cashews
Now add the cashews to the date paste in the blender and a few drops of vanilla flavor, if you like it, and blend together. Remove the mixture from the blender.
Step Three: Fold in Chocolate Drops
The last step is to fold in the chocolate drops. I use dark chocolate here instead of whole milk, because it usually contains a higher percentage of cocoa, a little less sugar and often gets by without milk.
And there you go, the cashew cookie dough is ready to eat!
If you like this recipe, I would be happy if you share it on Pinterest!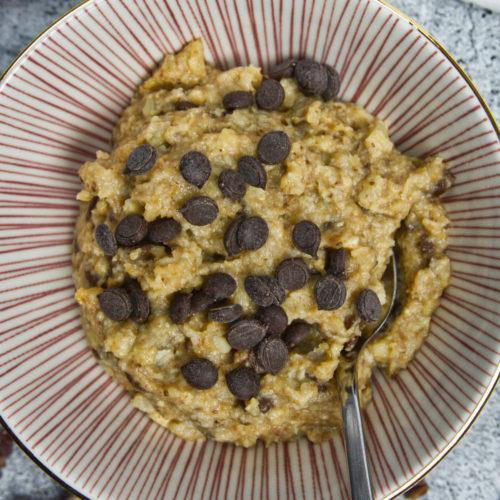 Cashew Date Cookie Dough
A quick recipe that makes all sweet desires disappear in no time!
Print Recipe
Recipe Equipment
Ingredients
1/4

cup

soft dates

60

g

1/4

cup

cashews

40

g

2

tbsp.

dark chocolate drops

30

g

vanilla flavor

optional
Instructions
Blend the soft dates in a blender to a paste, if necessary add some more water to make it creamier

Add cashew nuts, vanilla flavor if necessary and blend

Remove the mass from the blender

Fold in chocolate drops

Enjoy!
Nutrition Facts
The links to products are affiliate links. If you click on such a link and make a purchase through this link, I get a commission from your purchase. This does not change the price for you.